Xsoul at home IPL hair removal reviews
Before I purchased the Xsoul IPL hair removal, I read the reviews about this product on Amazon, and most of them were positive. So, I decide to buy the IPl and put it to work.  
I started using it in early May twice a week. The seller sent me an email stating the weekly use depending on my hair progress.
The manual recommends one treatment per week. After the 2nd week of treatment, I decided to step up the treatment twice a week because I didn't see any effect.
After 2 months of using Xsoul IPl hair removal
I have started becoming impatient since it has been two months, and I am not noticing any reduction in my hair growth. 
Unfortunately, I still have the same amount of hair on my chin and jawline as I did when I first started the IPL treatment. 
Also, I started noticing red spots after using the Xsoul for my skin treatment. 
They continue to get worse whenever I use the device. As for larger portions of my hairy legs because the light flash is so low, making it unable to penetrate and remove hair in that area. 
This product was a waste of money. It didn't work for me because of my skin color.
Xsoul at home IPL hair removal reviews before and after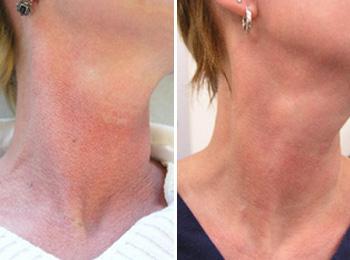 However, I notice one more thing while using it: once you've used the device for too long, it instantly stops working, and you have to unplug and wait 20 minutes for it to cool down to work again.
Due to this, It literally took me several hours to do my legs. I got pissed off the last time I use it, then discontinue using the product. 
Then I decided to go back to the clinic and renew my laser hair removal treatment which I was doing before I bought the Xsoul. I have purchased the device because i want to save some money and do my treatment at home.
Alternative hair Remova  i Found
My husband disagrees with my decision to go to the clinic to spend thousand of dollars for laser hair removal treatment. 
Then he spoke to his sister about my unwanted hair problem, and she came up with the idea of buying a different brand.
We decided to try another IPL hair removal handset. At this time, we bought Homiley Beauty Rose Skin
I tried the product, and it works. What I noticed about the Homiley IPL handset is that it has (1million ) flashlight much stronger than the previous one, enabling it to penetrate and remove my thick armpit and legs hair easily.
It works amazingly. After the first three weeks, I saw results, and I'm just getting better results as I continued with the treatment.
 I have dark hair, and if you follow the instruction booklet judiciously, it will work for you.
The Homiley IPL is very affordable and easy to handle. I definitely recommend you buying this product.
What is the best IPL hair removal machine for the home?
Though there are many IPL brands in the market, the question is; how do I know the best IPL Brand to purchase.
The following are some of the best top leading, and clinically-cleared IPL machines you can buy today
Smooth Skin Bare IPL Hair Removal handset
Is Xsoul IPL worth it?
The Xsoul IPL hair removal treatments are worth the effort if you want to save time and money. But does not work for the most skin type. 
If you want a more reliable option, you can go for Homiley at home IPL hair removal Handset.
This device works for most skin types, is affordable, and can help you feel confident and improve your skin texture.
xsoul ipl hair removal FDA approved
Xsoul is not FDA approved but cleared and Medically approved for home use. However, the IPl is best-suited for treating small areas like the lip, chin, etc., but may not work for most skin, unlike the Homiley IPL handset.
Conclusion on Xsoul at home IPL hair removal reviews
The Xsoul at-home IPL hair removal is a good product but may not work for most skin due to its lower flashlight level. If you want to experience a tremendous hair removal product, try the Homiley IPL device.