Dear Kate Period Panties Review
I found these unbelievably cute underwear called Dear kate.
They're actually incredibly high performance in that they're leak-resistant, stain-resistant, and also wicking.
As you can see, they're absolutely adorable.
I bought one of their styles called the starlet style, and this is a size medium for women who wear pants.
Kate underwear can hold or prevent about one teaspoon of liquid from passing through.
I did a quick test putting it down on some tissue paper to see how much liquid it can hold. Here are my experiments
For most women, the menstrual cycle comes with lots of discomforts that tend to come from time to time. While period panties may not necessarily get rid of the discomfort, they can alleviate the stress and troubles associated with the cycle. And this is why it is paramount for every woman to get well-designed, comfy period panties.
Dear Kate Period Panties Review
Dear Kate period underwear comes in different sizes, colors, and styles; hence, you are bound to find one that suits your particular need.
Here, this Dear Kate review will take a closer look at the various products from this brand. At the end of this review, you will be able to decide whether Dear Kate underwear is for you or not.
What is the technology behind Dear Kate period panties?
Typical Dear Kate period underwear comes with micro-polyester blend fabric and the company's signature knit. The combination of these two threads forms Dear Kate's proprietary Underlux technology.
Based on the design of the knit, the fabric dries and wicks moisture quickly. With this, you don't have to worry about your health and hygiene throughout the period. 
Also, Dear Kate underwear features outer linings that are made of LYCRA and Tactel fabrics. LYCRA is known for its ability to stretch whereas Tactel is stronger and dries faster than the outer linings of other period panties.
Absorbency
There are two kinds of liners in Dear Kate's underwear.
The crotch area of this liner contains the period-protection. It can comfortably contain fluid of around 1.5 tampons.
Full liner is longer and better than mini liners. Typically, it travels to the front and back areas of the waistband. This liner is capable of absorbing as much as 2 tampons of fluid.
Layers
Dear Kate period underwear has three separate layers. The first two layers have absorbing properties. Hence, these layers wick the body fluids. The silver in these two layers protects you against harmful microbes.
Being leak-resistant and water-repellent, the third and outermost layer prevents fluid from leaking out the panties. Resultantly, no fluid will get to your clothes during the period.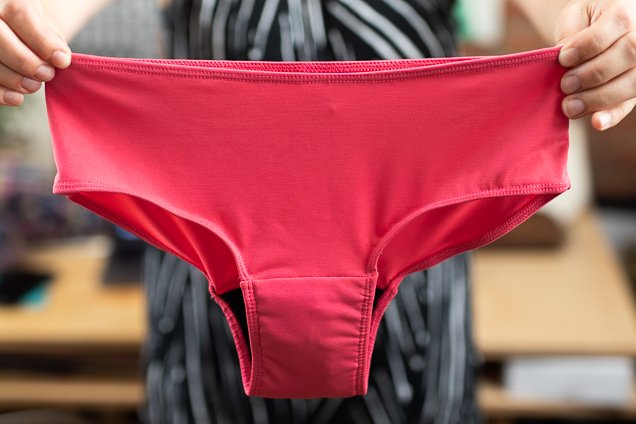 Styles of Dear Kate underwear
Dear Kate period underwear has three different lines, which are Ada, Nellie, and Hazel.
Ada Dear Kate Underwear
This line of Dear Kate panties comes with a beautiful and functional look. The lace trim attached to its waistband ensures that gives you a sexy appearance. 
The body of Ada has 76% nylon and 24% Lycra while the lining features 90% micro-polyester and 10% elastane. 
The trim is made with 86% polyester and 14% elastane.
This line is further categorized into 5 different types:
Ada Hipster Full
If you are looking for a pair of Dear Kates with the most absorbency, the Ada Hipster Full should be your choice. It is usually available in black and beige.
Ada X Hipster Full
Although there are some similarities between Ada Hipster Full and Ada X Hipster Full, the latter one comes with a more refined lace. Besides, the pattern of Ada X Hipster Full features a more feminine look than other versions of the Ada line.
Ada Brief Full
Ada Brief Full provides full coverage and has a low leg and high waistline. Its soft lace waistband accentuates the overall look of the product. The available colors are black, beige, and ultraviolet.
Ada Hipster Mini
Ada Hipster Mini is for women that want to show more skin even during their period. Compared to the other hipster versions, its waist is lower while its legs are higher. You can get in black, beige, and ultraviolet.
Ada Thong
This version of the Ada line comes with a beautiful stretch-lace in beige, black, electric blue, and ultraviolet. Out of all products under the Ada line, Ada Thong has the lightest absorbency.
Nellie Dear Kate underwear
The Nellie line gets some of its features from the Ada and Hazel lines. But it is quite a better choice for people looking for classy period panties. Apart from the Nellie Thong, the products in this line have 8 different sizes – XS, S, M, L, XL, 1X, 2X, and 3X.
The 4 versions of Dear Kate's Nellie panties are:
Nellie Hipster Full
If you are wearing a business casual dress or jeans, Nellie Hipster Full is the right underwear to go for.  It has heavy absorbency and available in different colors and sizes.
Nellie Brief Full
This version of the Nellie line also comes with heavy absorbency. It features low-cut legs and a high-waist style. The main colors you can find include black, beige, and dusty teal.
Nellie Hipster Mini
Nellie Hipster Mini is everyday underwear with medium absorbency. Beige, dusty rose, black, and dusty teal are the available color for this version.
Nellie Thong
The last version of the Nellie line provides period protection and guarantees your comfort. Its absorbency is light and available in dusty rose, dusty teal, black, and beige.
Hazel Dear Kate Underwear
Hazel line is known for featuring a casual and sporty look. The 5 versions of this line are available in different sizes and colors such as dusty rose, electric blue, aspire, fuchsia, emerald, flamingo, and ultraviolet.
Hazel Hipster Full
This version of the Hazel line comes with low-cut legs. This guarantees utmost comfort and coverage as you continue dealing with your menstrual cycle.
Hazel XX Hipster Full
Hazel XX Hipster Full is lightly different from Hazel Hipster Full as it features medium-high legs and a full bikini-cut waist. Its heavy absorbency ensures it dries up quickly.
Hazel Hipster Mini
This version has medium period coverage as well as medium absorbency. It is one of the cheapest Dear Kate's period panties.
Hazel XX Hipster Mini
Do you want Dear Kate underwear with a casual vibe?  Then, Hazel XX Hipster Mini is a great option for you. It boasts of having lower-cut legs and a low waistline.
Hazel Thong
This version is mainly black with touches of different colors in its trim. The absorbency of Hazel Thong is light. Overall, this product is highly recommended for women that want to hit the gym during their period

Dear Kate Underwear Maintenance
Dear Kate panties are easy to maintain as you can use a washing machine for cleaning and drying them. Therefore, you don't need to worry about cleaning them with your hands. 
To ensure thorough, consider getting mild detergent that will have gentle effects on the fabric of the panties.
Dear Kate Underwear Warranty
Each product from Dear Kate comes with a one-year warranty. Besides, if you are not satisfied with the quality of the product, you can return or exchange it for another product from the brand within 60 days of purchase.
Conclusion
Dear Kate Period panties are great choices for people looking for good period underwear. However, Period Leak undies are better and more durable options. 
This alternative has a 3-layer leak-proof material that ensures that blood cannot seep through and ruin your clothes. Also, the lightweight organic fabrics of Period Leak undies make them a great option for individuals looking for
eco-friendly period underwear.